Saturday 9/23 from 10-5 || Sunday 9/24 from 11-5
The Rappahannock County Annual Farm Tour is a free, two-day, self-guided tour offering a behind-the-scenes glimpse of our working farms. Rappahannock County's early settlers were small farmers; officially founded in 1833, it has long been deeply rooted in agriculture.
The mission of the Rappahannock County Farm Tour is to present an unforgettable, educational and enriching experience of Rappahannock County's (Agri)Culture.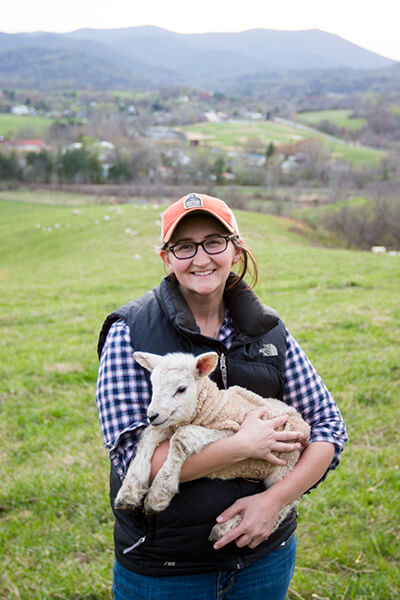 Press Release, May 23, 2017
Co-Chairs Announced for the 2017 Rappahannock County Farm Tour
Molly Peterson, who chaired the very successful 2016 Farm Tour, has volunteered for a much more important role this year: mother to her new son, Alden.  This year it's going to take two people to fill Molly's shoes, so Karissa Epley and Laurie Smith have stepped up to co-chair the 2017 Rappahannock County Farm Tour.
"After much contemplation and with the arrival of our son, I decided to step down as Farm Tour Chair this year. However, I'm so hopeful, grateful, and excited for the Farm Tour because it is being led by two ever-capable, enthusiastic, and knowledgeable Co-Chairs, Laurie Smith and Karissa Epley. The 2017 Farm Tour will continue to highlight the beauty of Rappahannock County's agriculture during the annual two-day, self-guided tour to several of our local farms, agri-artisans, orchards, and more. It may be a smaller county than some of our neighbors, but it is so abundant when it comes genuine and creative farmers & producers.  We all look forward to sharing it with our visitors." – Molly Peterson
Karissa is a Pennsylvania native who grew up surrounded by Amish farmlands. Having moved to the county two years ago from Chesapeake, Virginia, Karissa has high aspirations of starting her own farm on her 10-acre property in Castleton. By profession, she is a nonprofit fundraiser and has worked for organizations ranging from performing arts to animal welfare. She is looking forward to leading the Farm Tour with Laurie Smith, and is excited to share her expertise in fundraising and special event management.
Laurie spent much of her childhood on her grandparent's farm in Boswell's Tavern, VA. You might say that farming is in her blood. A 20-year resident of Rappahannock County, Laurie lives on a small homestead in Amissville with goats, sheep, rabbits, chickens and her partner, Mark.
If you'd like to be a part of the farm tour – as a farm on the tour, a sponsor, or a volunteer – please send an email to rappfarmtour@gmail.com or leave a message at 540-937-7977.
---
Archival photos supplied by Rappahannock Historical Society
Do you have more photos you'd like to share? We'd love to see them! Email us at info@rappfarmtour.org or share them on our Facebook page.